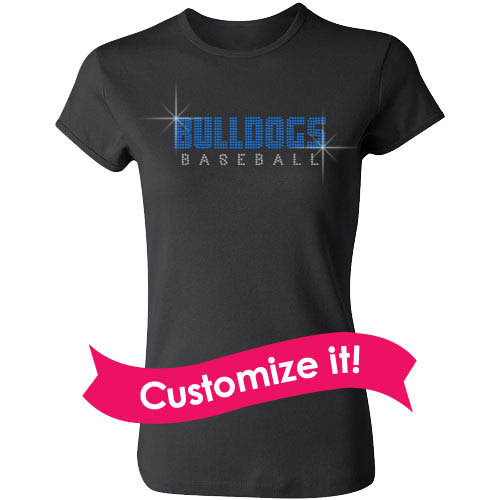 Elite Mascot Baseball
SKU 1044
Product Details

Elite Mascot Baseball Rhinestone T-Shirt

Customize it! Show off your love for your team with The Elite Mascot Baseball Bling T-Shirt. This sparkling rhinestone design can be customized with your team name (max. 9 letters) and choice of rhinestone color (shown in blue).
Personalized with your Team Name (max. 9 letters)


Design measures approx. 3" in height, width will vary depending on customization

Shown on Black Fitted T-Shirt with Crystal & Blue Rhinestones

Also available in Burnout, Regular, Tank Tops and Hoodies

Personalize Back of Shirt with Name & Number (Optional)

Need help with sizing?
Please see our T-Shirt Sizing Chart to find your correct size. Due to the custom nature of our shirts we cannot issue refunds due to sizing issues, so please double check the sizing chart.

Can't find exactly what you're looking for?
Additional shirt styles and colors are available. For a complete custom rhinestone design of your graphic or logo please contact us for a free quote.
Save this product for later